At Waasland Celtic Harp Center you may go to buy a harp but hiring is also an option, if you first just want to 'feel' whether playing the harp is something for you (or your son or daughter) and do not want to be immediately 'tied' to the instrument.
Our rental system:
Only new harps are rented out!
We rent out three models of levered harps.
Harps can, if so desired, be home delivered to you (in Flanders only)
Flexible rental: You can join at any time or terminate the lease, remaining days are then refunded per day.
Prices are inclusive of VAT, per month.
When purchasing a harp within five months of renting, the full rental amount will be discounted, even if you wish to purchase another model.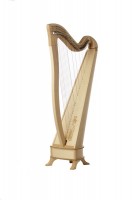 34 Strings (Gut or Carbon)
Waight 10 kg
Height 125 cm or 140 cm (with or without base)
Without transport cover, bring a blanket
35 Strings (Gut or Carbon)
Height 145 cm
Waight 11,5 kg